Free State Park in Ocean City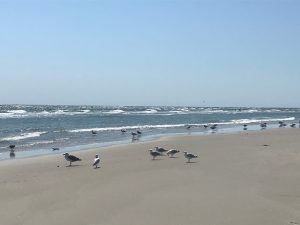 Corson's Inlet is a free state park at the south end of Ocean City NJ. There's an easy 1-mile nature trail on a sandy footpath through shady trees and shrubs. The hike ends at a beach with an expansive view of the ocean on the west side of the island. There are no lifeguards and technically no swimming,  but it's perfect as a quiet spot for dipping your toes. The OC Boardwalk beach crowds are more than 2 miles up the shore.
We were stunned to see teens blithely walk across the water,  and then dive into the surf. They had found a hidden stretch of sandbar. Shell collectors will love the Inlet's west side beach. We stuffed our pockets full of shell treasures by digging through the piles of beached shells. Also spotted 2 horseshoe crab skeletons (one was sporting sunglasses).
Wildlife Trail
On our morning stroll, Corson's Inlet was teeming with wildlife. It's a protected area for nesting and migratory birds. We're not birders, but we spotted a variety of shorebirds from sandpipers to plovers and gulls. In the photos below, you'll see a flock of white birds. They all flew off when we strolled by.  The east side is reserved for boats and small watercrafts. We were surprised when a friendly local resident pointed out colonies of hermit crabs slowly making their way through the seagrass. The jet skis didn't bother the busy crabs at all!
Directions and Tips
To reach the park, drive down West Avenue, turn on W 55th Street and follow signs for the Russ Chattin Fishing Bridge. You will spot a small parking lot with 2 portapotties on the left right before the bridge. No dogs allowed. Bring water, bug spray and sunscreen and allow 1-2 hours for your visit. If your time is limited,  you can re-trace your steps through the nature trail. It will cut about a mile from your return walk.