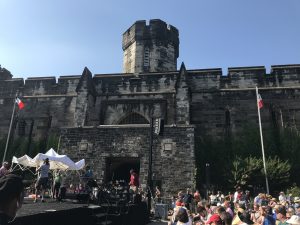 On July 14, 2018, I ambled behind hundreds of sweaty revelers down Fairmount to celebrate the last Bastille Day at Eastern State Penitentiary. For the past 24 years, the historic prison has co-hosted a Bastille Day show and after-party with their neighbor, the London Grill.  It began as a lively intimate restaurant party each July 14. But the event soon exploded in size and pageantry into an elaborate music and drag cabaret extravaganza. The 2018 publicity claimed it is Philadelphia's largest free theatrical performance.
The Guillotine and Edith Piaf 
The pre-show featured multiple beheadings of juicy watermelons, based on thumbs down votes from the crowd. The annual executioner this and every year was  Sean Kelley,  Senior VP and ESP's first employee. The main attraction, the Bearded Ladies Cabaret, made a dramatic entrance on the main tower parapet.  John Jarboe was a winged Edith Piaf in gold lame, crooning and rappelling down the stone fortress. When he reached the entry door, he unfurled a huge banner proclaiming RESISTEZ!
Joan of Arc, Ben and Cautionary Tales
What followed was a rapping and dancing procession of famous heroes who fought for freedom and justice. Joan of Arc made a live phone call to Senator Pat Toomey's office, encouraging the crowd to shout out their protest messages.  The Handmaids appeared as a harbinger of worse disasters to come, and Marc Zuckerberg sang You Belong to Me (courtesy of the Police.)
Marie Antoinette and Tastykakes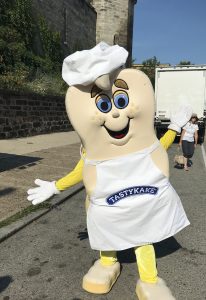 The eagerly-awaited annual climax was the appearance of Marie Antoinette. She was enacted with gusto and a frightful pink wig by Terry McNally, co-owner of The London Grill. She swigged Chardonnay and mocked the complaining masses below. Finally, she uttered her famous line, for the last time: Let them eat Tastykakes!
The crowd below was pelted with a rush of  Tastykake butterscotch krimpets –2,000 packages were flung down from the balcony. The lucky bourgeoisie in the receiving area checked their wrappers to see if they were a lucky winner of a large Tastykake stash. I took that as my cue to head out as Def Leppard's Pour Some Sugar on Me boomed down.