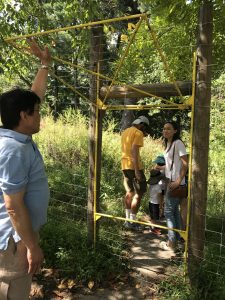 Pavillion in the Trees, an official Hidden Gem of Fairmount Park, is an immersive outdoor art installation created by Martin Puryear in 1993. It was commissioned by the Association for Public Art, and was inspired by the artist's longing for a secluded treehouse. The latticed wood pavillion rises 24 feet above the woodland floor and is reached by walking up a 60′ sloping ramp.
How to Find It
Part of the artwork's allure is how challenging it is to find. Its address–Landsdowne Drive and Horticultural Drive–seems straightforward, but we learned otherwise. We were hosting out-of-town relatives and first-time Philly visitors. They decided Fairmount Park was the one attraction they wanted to explore here with their young children. Armed with both paper map and a map app, we headed out from the Shofuso Japanese House confidently, turned right, then wandered around 2 deadend paths. Scanning the horizon, we saw closed metal gates, deer fencing and caution tape.
We were about to abandon our search, when we spotted a brown wooden structure in the distance, beyond the barricades. "We'll just go around then", we agreed. We headed up the road by the Please Touch Museum, but the area was totally fenced in. On a hunch, I yanked at a yellow panel in the fence and it lifted up (see photo). We hefted the children over, avoiding the barbed wire, and we were in! We trooped into the woods following a partially cleared footpath and past a snake. Five minutes later, we found concrete steps and a legitimate path leading to the artwork's plaque and ramp. Afterwards, we discovered that there are videos online to guide seekers, starting from behind the Horticulture Center.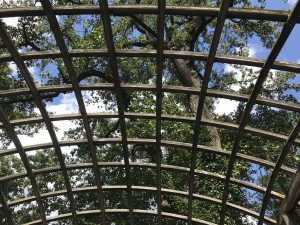 Repair and Restoration
The Pavillion experience was as solitary, serene and uplifting as promised. Google reviews had forewarned that the "In the trees" aspect was more a memory than a reality in 2019. A marker onsite explains that hundreds of invasive trees in Fairmount Park had to be cut down. The trees and deer were killing the longterm vitality of the forest. The obstacles we encountered were, in part, the protective deer fencing they installed in 2018.
The Pavillion in the Trees, like its owner (the City of Philadelphia), has faced hardship and decline, but is resilient. In 2017, a massive tree fell on the Pavillion. The tree shattered portions of the walkway and the installation had to be closed to visitors. The Association for Public Art rallied a repair crew and the Pavillion reopened in fall 2018.   
We enjoyed our outing and hope to return once the forest has time to reclaim its space.
Pavillion in the Trees