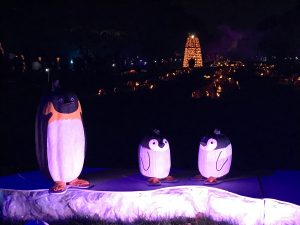 This was our second annual family outing to experience Jack's Pumpkin Glow Philadelphia.
5,000 Carved Pumpkins/Fumpkins
This 3rd annual Halloween spectacle in Fairmount Park (near the Mann Center) features 5,000 carved, lighted pumpkins. We were blown away last year by the dazzling pumpkin displays and prefer family-friendly Halloween celebrations. We've done our share of creepy haunted houses, ghost tours, and insane asylums.
Thanks to an article in the Philadelphia Inquirer, we discovered that most of the pumpkins are actually fumpkins: made of synthetic material, colored and molded to resemble organic pumpkins. We were not overly upset by this revelation (unlike those crying Scam! on Google reviews). When you see the intricate designs they create, and calculate that the display is up for weeks in all-weather, it's the only viable approach.
Amazing Artistry
The carved pumpkin displays grew progressively more elaborate and mind-blowing as we strolled the trail. The entrance featured a field of jack o lanterns, glowing in shades of purple, green or gold. Each was unique. We admire a snow scene shimmering with white-lit pumpkins. Next was a haunted ship with pumpkin clusters intricately carved into sea creatures. As we rounded the bend, we were surrounded by trees encircled with hundreds of shimmering carved pumpkin globes.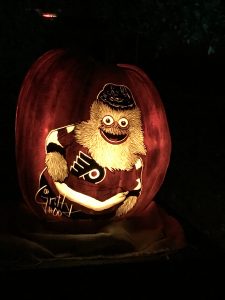 Even more impressive were the huge dinosaur sculptures. they presented famous works of art by Dali and Frida Kahlo recreated in a 3-D canvas of hundreds of carved, joined pumpkin shapes.
For the special Philadelphia version of The Glow, there were carved pumpkins celebrating local PA icons like Rocky, Ben Franklin and Beetlejuice (Michael Keaton.)
Phillycentric Displays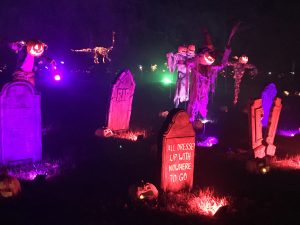 The finale was a tribute to Philly Sports teams, featuring Gritty and the Fly Eagles Fly soundtrack for the Eagles. There was also a fitting resting place for the New England Patriots: a graveyard with tombstones for Tom Brady and Gronk.
Tips and Event Details
The Glow runs evenings until Sunday November 3, 2019. It is located in Fairmount Park near the Mann Center. You have to purchase timed tickets in advance on their website. Search online for 20-30% discount coupon codes. Allow at least an hour to stroll the 1-mile paved trail. You can purchase a limited selection of pricey food and beverages on site. For 2019, they have added a $5 parking fee. Park instead in the NW Shopping Center a few blocks away and walk over.  Parents beware: every child who was leaving had scored a lighted globe or necklace from the gift shop.