Eagles Superbowl Championship Parade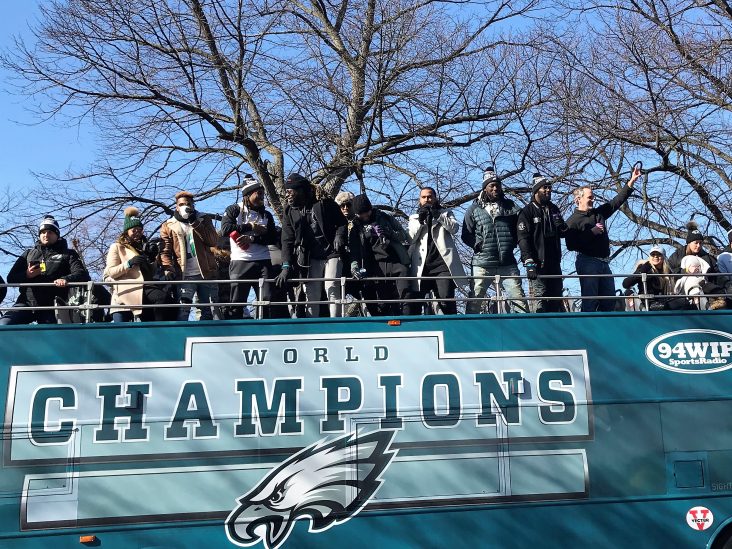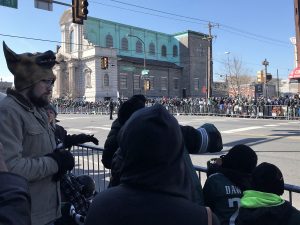 On February 8 2018, I joined hordes of fans decked out in green to cheer on the Birds at the first Eagles Superbowl Championship Parade.
PHILLY CELEBRATES SUPERBOWL WIN
On February 4, I was impressed at how everyone in my South Philly neighborhood burst into the streets to celebrate. It was just moments after the  Philadelphia Eagles whomped the Patriots 41-33 in Superbowl 52.  On that frigid night, I was greeted by fireworks, cheers and car horns blaring as I steered our puppy along his nighttime walk. I had to switch up our usual route because fans were marching 4-6 abreast in the streets, chanting  E -A-G-L-E-S. They were barking and howling because we were "Underdogs No More" as the local headlines proclaimed.  Everyone headed to Broad Street and City Hall to celebrate into the wee hours. Despite Philly fans' reputation, there were only a few knucklehead incidents, as Mayor Kenney dubbed them.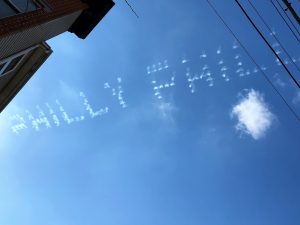 The city mood was joyous and festive for days afterwards, with Center City  lit up in green and Thank You Eagles signs everywhere. The Flyers and 76ers caught the spirit and went on winning streaks that stretched for weeks! Bud Light stepped in to help Lineman Lane Johnson honor his promise to buy everyone in Philly a beer if they won. The marketing geniuses at Bud Light changed their slogan from Dilly Dilly to Philly Philly and emblazoned it in skywriting on parade day.
PARADE ROUTE
Given how superstitious Eagles fans are, I was surprised when the city set up parade route barricades a week before the Superbowl was played. The City reversed the parade route used for the 2008 Phillies Championship Parade.  The Eagles 5-mile parade route started at the Link stadium, headed straight up Broad Street to City Hall, then down the Benjamin Franklin Parkway to the Art Museum (Rocky steps).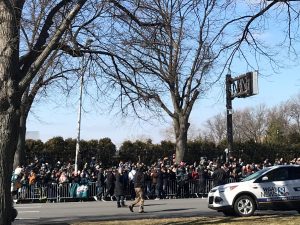 I scoped out the early morning crowd levels by watching ABC 6 TV's coverage. When I saw that die hard fans were camped out around the Art Museum for the ceremony, I headed in the opposite direction–to the parade kickoff at  AT&T station. I was able to squeeze in right before 11am to catch the police motorcycle escort leading the procession.
26 PARADE BUSES
There were about 26 Eagles buses in the parade, for all the Eagles players, their families,  cheerleaders and other staff. On the first bus, some guy in a black coat hopped off to shake hands and mingle with the crowd. I learned later that was Doug Pederson brandishing the Vince Lombardi trophy for fans to see!
The crowd hurled beer cans to the players who caught and chugged them on the fly, like the pros they are. I missed seeing Jason Kelce in Mummer regalia, but I caught his headline- making rant and No one likes us, we don't care chant, watching the ceremony from the comfort of my home. Check out the photo below of the weirdest tribute attire I saw that day–Liberty Bell Eagles wear. Here's the full parade highlights recap from Philly.com