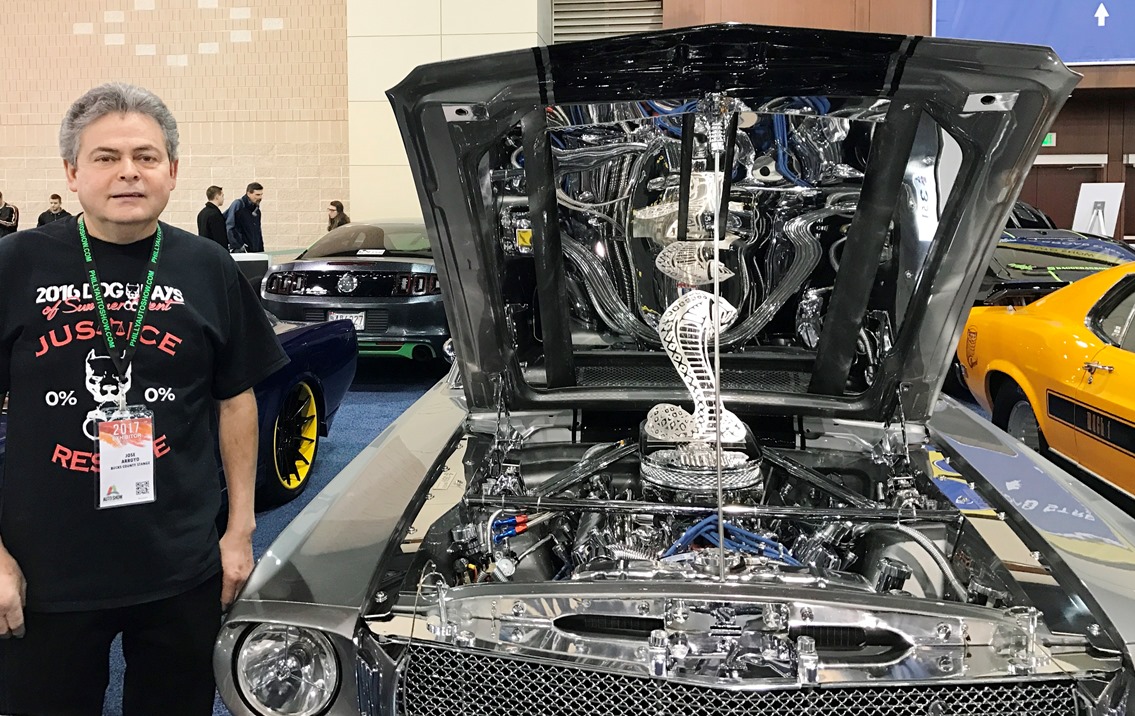 On January 28, 2017, my husband, son and I visited our first Philadelphia Auto Show on a whirlwind tour. One of the highlights was chatting with the proud owner of the classic Mustang Cobra beauty above. He discovered the car on the front lawn in South Philly, as an infested wreck. It was his first car rescue, yet he devoted 5 years to restoring it, down to the custom cobra upholstery detailing.
Classic Movie Cars
There was an impressive lineup of famous film cars, from Back to the Future's DeLorean to the original Batmobile. You could sit in the driver's seat, for $20 a photo. For Harry Potter fans, there was a replica blue Ford Anglia with the license plate MSCHFMGD.
The local Simeone Foundation Auto Museum  and auto clubs had aisles of their mint condition classics on display. We met a few oddly placed celebrities. Why was Miss America handing out Jaguar posters at the British cars booth? I did get to meet and score an ice scraper from Gary Hall at ABC Action News.
Exotic Imports
Next we hit all the high end car designers who would allow riff raff like us to come close. Greg had to admire the Lamborghinis and Ferraris from the other side of velvet ropes however. You could sign up for test drives around Center City. We didn't have the time or the nerve to try.
Drive a Jeep Indoors
On our way out, we saw a long, amusement park style line for an indoor Jeep test drive. You got to drive around a tiny obstacle course at slow speed. For Jeep drivers in training, there was a kiddie course too. That's me in the red 2017 Miata, feeling scrunched with the seat all the way back.